Chapter 108: Measuring Session
- 3 minutes read
- 604 words
We then moved from the entrance hall to the dining room to have a conversation over a cup of tea. For some reason, Pi-chan followed us to the dining room and is currently wandering back and forth between Sonaris and I.
When Sonaris asked me what my hobbies were, I replied that I take care of Pi-chan, while she said that sewing was her hobby.
"I want to make you some clothes!" Sona tells Patrick
"For me to wear?" Pat
"Yes! I want to make you military and ceremonial uniforms as well as march armor! I even have ideas for everyday clothes for you!" Sona
"March armor?" Pat
What's that?
"Yes, there's a big military exercise every four years, right? The next one is in the upcoming year, I think. I want to make armor for you to wear!" Sona
The Military March
A festival where the First, Second, and Third Kingdom Armies march through the Royal Capital before exiting the city and exterminating monsters around the city in one big go. The meat of the exterminated monsters is provided to the city food stalls at bargain prices while usable items like furs are sold and the proceeds are distributed to orphanages and Army widows.
I haven't had the chance to participate since the last one was the year before I joined the Army, but it's possible the Eighth Army will be called to join the other armies in the March. Certainly, the high-ranking military personnel will march in armor in the city, normally those personnel wouldn't wear armor.
"Sure, I don't have armor like that right now. Making armor like that must be difficult, right?" Pat
"It's fine, don't worry! I've wanted to make some handmade armor for Patrick! I'll design it myself, of course!" Sona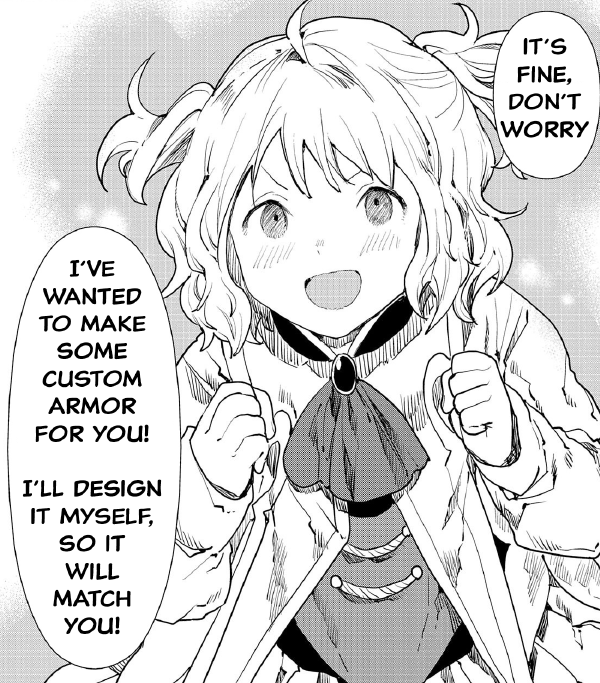 I'm a little apprehensive about her design, but I can't say no to her. I give up.
"Well, then I'm looking forward to seeing it." Pat
I didn't have the guts to say anything else. A year later, I would regret my decision, but how was I supposed to know what the armor would look like.
"You need clothes for my brother's wedding as well! It's a month from now, so if I start working now, you'll have them in time! Leave it to me!" Sona
Certainly, I'll need to attend the Crown Prince's wedding, and the other party in the wedding is a Marquis I'm acquainted with…
I'll also get them a wedding gift because I'm indebted to both side's fathers.
"You can make them in that time?" Pat
Normally, custom-made clothes will take half-a-year to make for major ceremonies.
"I'm a great seamstress, it'll be fine!" Sona
Well, she seems so excited I can't help but agree.
They started to take my body measurements in the dining room. By the time they were done, it had turned to dusk. I feel like I was smelling something odd while I was being measured.
I gave Sonaris some souvenirs, various liquors and a chess set, before sending her off. I collapsed to a sofa in the mansion, blessedly alone.
"That was so tiring!" Pat sighed
The servants were also visibly tired. They spent the day serving drinks and snacks to the Royal Guard knights and the army soldiers, as well as shooing the onlookers away.
"I need to thank the servants for their work today. I'll give the chef permission to bring out the whiskey for everyone to get a drink after dinner. The non-drinkers can get sparkling grape juice. That'll serve as a reward" Pat
I made sure to thank the servants for their hard work.
---
Translation
Good Job!
Do Better!
Chapter
Love It!
What?
FFS!
Really?
---