Chapter 103: Special Mission 2
- 2 minutes read
- 262 words
After Kyle filled me in on the rest of the details, I took action the next evening.
I was headed for the certain noble's mansion in the capital.
I chose to wait a short distance away from the mansion's gate in a stakeout. Since the sun has set, there's nobody coming in or out.
I creep out, ready to spy.
"Silence" Pat mutters
That wasn't magic, because I can't use magic. I'm just reminding myself I'm in covert mode!
I carefully climb over the wall surrounding the mansion and land in the garden, then skulk over to the mansion. I peek through a few windows, unlit ones so I don't get spotted, but they're all locked. I can't get in that way.
While I was thinking about my next move, I hear a voice at the gate.
"Oh, old lady, the master wants another massage? You work so hard. I'll let you in, just a minute." Gatekeeper
The gatekeeper calls out to the old woman and they head for the front door.
Here's my chance.
The gatekeeper comes out to let the old woman through the gate and then the front door. I followed the gatekeeper so I could slip through the door.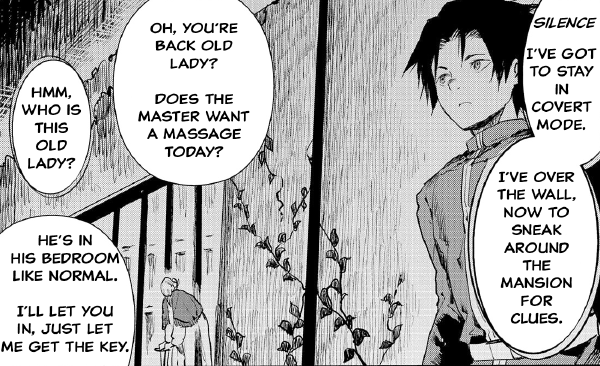 "The master is in his usual room. You know the way, so I won't escort you. I've got to watch the gate." Gatekeeper
I'm pleased that I'm going to get led straight to the mansion's owner, that saves me the trouble of searching.
At this time, I didn't realize I was about to see something akin to torture soon.
---
Translation
Good Job!
Do Better!
Chapter
Love It!
What?
FFS!
Really?
---