Chapter 102: Special Mission 1
- 3 minutes read
- 443 words
One day, I was called to the King's private rooms. I see another person besides His Majesty here, he had silver hair and brown eyes.
"You two haven't met, Patrick, this is Kyle from the Intelligence Department. Have you met Patrick, Kyle?" King
"Yes, I'm familiar with just about every nobleman of the Kingdom. Nice to meet you Count Snake. My name is Kyle Keselowski." Kyle bows
He's about the same height as me, probably a few years older, 25 maybe? Medium build, medium face, it's the most average appearance I've seen.
"Nice, to meet you, I'm Patrick von Snake." Pat
Since Kyle has a family name, he must be an aristocrat.
"The Baron Keselowski family has served the Intelligence Department for generations. We are court aristocrats who don't hold territory and spend our lives investigating the crimes of other court aristocrats, since they are central to the proper functioning of the central government." Kyle
Oh, so like Japanese Public Security.
"Ok, Your Majesty. What have I been tasked with?" Pat
"Quick on the uptake. Kyle's investigation suggests that a noble family has been cheating, but there's a lack of conclusive evidence. Kyle, fill Patrick in." King
"Yes, Your Majesty, Count Snake…" Kyle
"Oh, please just call me Patrick, I'm just a young upstart." Pat
"Ok, call me Kyle then. So, Patrick what do you know about the Ministry of Agriculture?" Kyle
The Ministry of Agriculture is a department that focuses on the farmlands of the Kingdom. They inspect the type and quantity of crops being planted and harvested and coordinate imports and exports to ensure the Kingdom will have sufficient supplies. It's an important department for the safety of the Kingdom's food supply.
"Yes, they're critical to the Kingdom's food supply." Pat nodded
"It seems the leadership is fraudulently reporting low yields in specific territories, then taking part of the difference as a bribe." Kyle
So, they're in cahoots with local lords to falsify taxes.
"It seems they're also paying off the tax collectors to keep the scheme hidden. Court aristocrats are paid a fixed amount from the Kingdom, so the income should be known, but he's been getting rich without working a known side enterprise. I started the investigation because his money wasn't making sense." Kyle
"So, what evidence do you have?" Pat
"Well, even when we searched the mansion, we couldn't locate any evidence. I checked for an associate or mistress, but I couldn't find anything. So I came to His Majesty for assistance." Kyle
"So, Patrick! Can you use your abilities to investigate? Can you sneak into the house and figure out the trick?" King
"I'll do it" Pat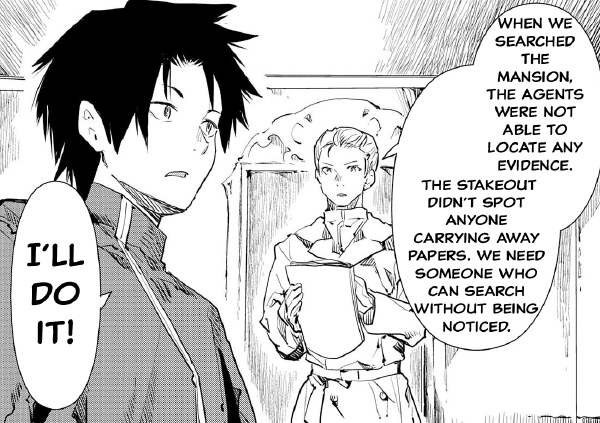 ---
Translation
Good Job!
Do Better!
Chapter
Love It!
What?
FFS!
Really?
---