Chapter 101: Servant Arrival
- 3 minutes read
- 506 words
I managed to welcome the new servants to the mansion. There were more than a few incidents in the entrance hall, but it was dealt with by sending those servants to the new main bathroom. In the end, only two of the servants had no issues. Luckily, I warned the servants to bring a change of clothes.
While I was waiting on the other servants to get back, my new butler struck up a conversation. He's a handsome young man, maybe 190 centimeters (6ft 4in), with blue hair and green eyes. He wears his long hair in a tied-up bun at the back of his head. He's an elf, so he's probably older than he looks.
His name is Astoria, unfortunately he's not named Sebastian.
I've also got dwarves and beastmen among the new servants. I hope there's no issues with the servant makeup for a nobleman's mansion.
"So, are you a demonologist, master?" Astoria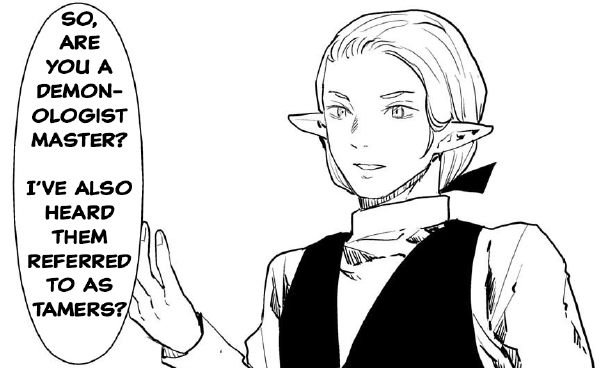 "What's a demonologist?" Pat
He explained that it was a certain type of human who can command monsters. They are also called "demon tamers" or just "tamers". Nobody among the elves, dwarves, or beastman are able to become demonologists, it's just humans.
Additionally, keeping pets is rarely practiced by the other races. Even then, keeping a pet isn't like taming. Also, demonologists use mammal-like monsters, there's no record of one taming a reptile-like monster.
I'm glad it's a rare skill.
I tested the competence of the mansion's security personnel, but I can't say anything good about them. I sent them to my territory for retraining and brought a few territory militia members over to fill in for them.
They looked excited to visit the Royal Capital, but even they leaked a bit entering the mansion. In a few months the servants will finish their training, so enjoy your time here while you can.
I also bought four horses for carriage and escort riding. The carriage was also completed, but the ride quality isn't very good. As delivered, it had a leaf spring suspension, but it wasn't a good design. I prayed at the Knowledge God's temple about a coil spring patent, which cost me two gold coin. I order some coil springs from my favorite blacksmith on the way back!
The carriage's ride improved considerably.
Also, it seems the bracelet I was given by the king is actually a magic tool. Even when it's pitch black, I make out the surroundings. Isn't it strange I can see like this?
From my previous life's knowledge, I'm guessing it is thermography. The kind where you can see temperature as colors. That sort of thing.
Trees and stones will have different temperatures, so you can make out the landscape. With this, I won't have problems crossing a forest in the middle of the night. Thank you for your gift, your majesty.
Huh? You don't think that was all?
Ok, I'll elaborate.
I received a new mission.
---
Author Note: Besides sight and smell, snakes have a pit organ that allows them to see by temperature.
---
Translation
Good Job!
Do Better!
Chapter
Love It!
What?
FFS!
Really?
---