Chapter 099: Pamela
- 3 minutes read
- 427 words
My name is Pamela and I'm a wolf beastman. I'm currently employed as a maid at the Count Snake mansion.
Previously, I worked in the cafeteria of the military barracks. That was awful. First of all is the smell, the smell of sweat saturated that place. The soldiers come right in after training without wiping off, so no amount of cleaning would remove the sweat stench.
Also, there were a lot of good-looking people there. I'm a little old to be single, and not as up to date with trends, but not everybody needs to be hip! I mean, there was a good man at my job before the cafeteria!
That workplace was the Baron Karee's mansion. I was a maid there and had a good relationship with a wolf beastman who was the gatekeeper. We were even thinking about getting married at some point.
Then the Baron rebelled, the house was crushed, and all the servants lost their jobs. My lover was unemployed and turned to adventuring to scrape by. I can't do anything with a penniless adventurer, we broke up!
Well, let's not dwell on the past and instead think of the future. Today, new servants are coming to the Count Snake mansion, twenty of them! Hopefully, one of them is a good man for me! Now, I can't wait to see their reactions when I open the door.
I have to admit, I had an incident when I opened the door.
Who would have expected it? I didn't know a snake could get so big! It's humongous! It looks like a venomous snake as well, doesn't it!
You get used to it quickly, but I want to find someone who can handle that sight.
Well, looks like all the new servants made it, and fifteen of them are males. Oh, one is a good-looking wolf beastman! He looks quite macho. Men with muscles are so romantic! You just need a bit of sense in your head if you have muscles, you don't need to be a genius.
Muscles are the best!
Now, let's open the door!
…
There were only two who didn't encounter incidents of their own. The macho wolf was not able to prevent a leak. Well, it could be worse, he could have let off a foul smell.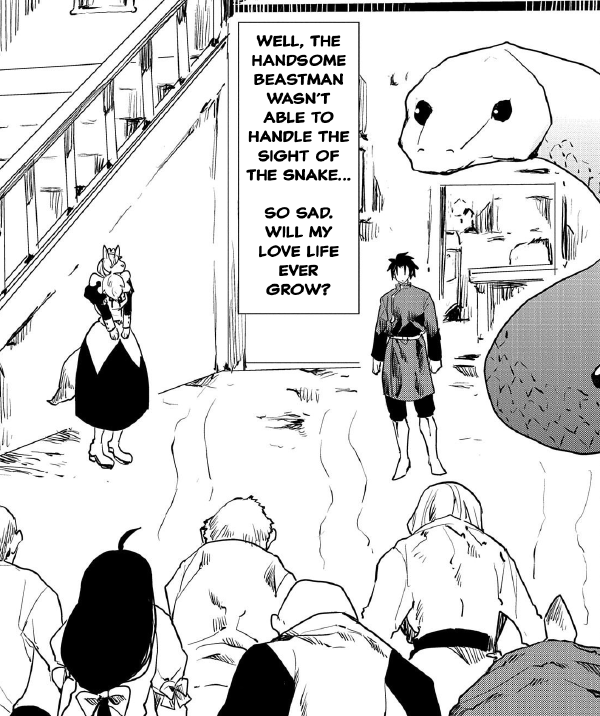 He's lucky he didn't go all the way!
I wonder if a servant could recover from that?
It seems the Dwarf stableboy and the Elven butler didn't have any issues.
Did you understand my expressions? I didn't want to descend to crass phrases.
---
Translation
Good Job!
Do Better!
Chapter
Love It!
What?
FFS!
Really?
---