Chapter 084: Red Grim Reaper
- 4 minutes read
- 640 words
Since there were no King-class monsters, the Second and Eighth Armies were able to destroy the monsters with a good degree of success. Of course, they weren't unscathed. There were many wounded and a few dead.
The fiercest area of the battle is where certain soldiers are fighting the cyclopses. A single Cyclops wouldn't be too dangerous, but there were five of them.
You might think that arrows to the eye would work, but a Cyclops is not that stupid. If there are archers around, they'll cover their eye with one hand and run around around smashing soldiers with their other hand. They're so large that anyone hit by them is seriously injured.
Wayne, the new ace of the Second Army, is leading his men against two Cyclopses.
"Well, Wayne's target isn't going anywhere. He's a monster." Pat
Wayne alone is holding down one Cyclops, while commanding his subordinates who are holding down another Cyclops. I can't discern the movement of his spear, I just see the blood coming from new wounds on the Cyclops.
Other talented people are doing the same for two other Cyclopses.
---
One Cyclops is fighting an invisible enemy, me. Nothing is there, nobody is around, but its wounds continue to increase.
The Cyclops thinks: "What am I fighting? What could I be fighting against?"
He swings his arms around, but they don't connect with anything. He swings his feet, but they hit nothing. And yet, his wounds increase.
Ugh, this idiot moves too much
I'm scared on the inside. If one of those arms hits me directly, I'm looking at an instant death. Just wildly swinging an arm is a deadly attack, what is this monster?
I dodge everything by the width of a sheet of paper, but I have no choice but to dodge it. I'd be lucky to get off with a broken arm.
Dodge and slash, duck down and rush in every so often.
I switch from my short sword to a katana, then aim at the ankle with the cutting edge. The knee of the Cyclops is slightly taller than me, what else can I attack?
After a few slashes, I finally connect and sever the Achilles tendon on the the right leg. The Cyclops bends down and I slash at the flanks. A bit of an intestine pops out.
Chance! I grab the intestine and run away at full speed, pulling out the intestine from the Cyclops. The Cyclops stops covering his eye and grabs at his flank.
I finally distracted the beast from protecting his eye!
I carefully aim at the eye with a shuriken, before letting it fly to pierce into the giant eye. The Cyclops barks and moves its hands back to its eye to extract the shuriken.
I'll run back to grab some more of the intestines, though I'm getting covered in blood from the pierced eye. It's all over my body.
When the intestine splits, the half-digested food begins to overflow and a strange odor starts to drift around. The Cyclops is now rolling on the ground in pain.
I finally get to slash at the neck, blood flies out like a fountain. The area around me is turning into a sea of blood.
"The Quintessential Reaper" One Soldier mutters
Who said that?
"The Red Grim Reaper!" Another Soldier shuts
I defeated one Cyclops and other talented soldiers managed to defeat three more. There was only one left, the one that Wayne's platoon was taking on.
Just then, the last Cyclops stopped protecting its eye for a second, so I took a cheeky shot at it with another shuriken. A direct hit!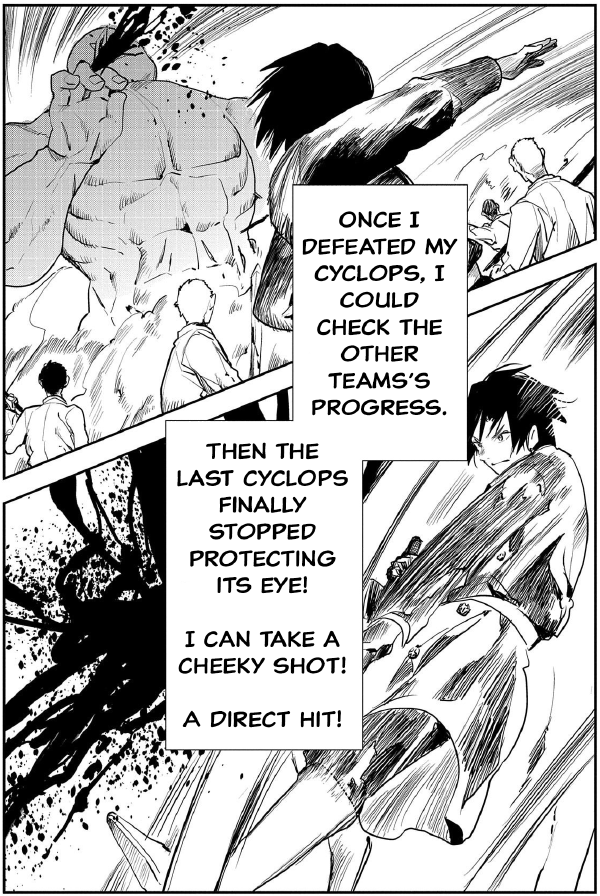 Wayne and his men swarm the badly wounded Cyclops.
As I look around, it is quite clear the end is in sight.
Behind me, a large thud from the last Cyclops was heard.
---
Translation
Good Job!
Do Better!
Chapter
Love It!
What?
FFS!
Really?
---