Chapter 069: Outdoor Activities
- 2 minutes read
- 319 words
We're having fun today.
The Eighth Army is having an excursion in the woods. We set up a camp near a stream in the forest and procured food in the forest. We didn't spot any dangerous beasts, but we did run into three orcs. That gave us plenty of meat.
There were a few injuries, but injuries in outdoor activities are common, right? Isn't it only problematic when people die?
After dinner, the Army went Patrick hunting instead of fox hunting.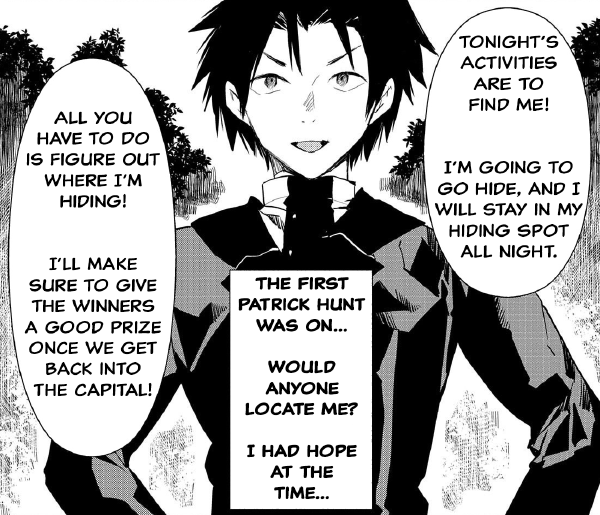 The game is easy, all they have to do is find me in the woods. If I was found, then I promised to give them all a prize when we got back. Everyone was happy to play when I mentioned the reward.
I ended up sleeping in a tree until the sun came up. Haven't the men played hide and seek when they were kids?
Well, I'm glad I slept soundly, even though I was sitting on a branch. I noticed there was a bird's nest also in the tree with a single large egg the size of a palm. I'm warming it up now, I'm sort of hoping it's a bird like a Java sparrow, that I could keep. It's a pretty big egg, what kind of bird is this?
For the morning activity, I taught the use of a small bow and arrow in the woods as well as how to use a shuriken. Some people encountered some difficulty, so the median accuracy was poor. They'll have to get some special training when we get back.
I have them try again at Patrick hunting in the afternoon, with their dinner on the line. I made sure to leave footprints and break the undergrowth on the way to my hiding spot.
Did they really not understand the game? Are they going on a diet?
Now they're complaining that they're hungry and didn't get enough sleep, how annoying.
---
Translation
Good Job!
Do Better!
Chapter
Love It!
What?
FFS!
Really?
---