Chapter 062: Banquet
- 2 minutes read
- 373 words
After the award ceremony, those who were given awards move to the royal castle for a banquet. This banquet is also attended by most of the heads of prominent noble families and high-ranking military officials, so lower-ranked soldiers will dread this part of the ceremonies.
Due to the number of awards this time, Second Lieutenant and lower ranked awardees will not be attending the banquet this time.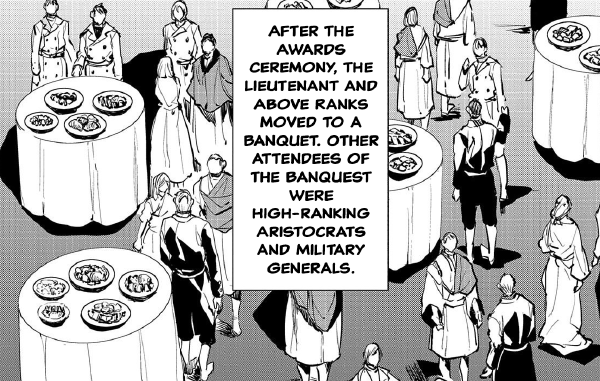 Wayne and I are in the castle courtyard where the banquet is being held, along with all the other attendees. The format is a standing buffet. This is a time where connections are made.
Maybe an up-and-coming military officer finds an aristocrat that has space to employ a Knight soon. Perhaps a lower-ranked noble meets a higher-ranked noble and joins their faction. It is useful for military officers to have a powerful backer.
In Wayne's case, he's a Lieutenant, but he is only a Baronet's son. He isn't even the heir, so he has very little in terms of backing. Even though the Kimble family are military aristocrats, and all members of the family are involved with the military, the highest rank currently held is Major. That's only one step beyond Wayne's current rank.
My mother's family is a Baron family, and the head reached the rank of Major before being formally discharged. He was never really powerful, even within the military.
Currently, a crowd has gathered around Wayne. Aristocrats bring their wives and daughters to visit him. Wayne is currently engaged in a bit of group matchmaking, one of the ways connections are made at these banquets.
Wayne has amazing looks and an impressive military career. There's second and third daughters of lower ranked aristocrats like Viscounts and Barons, as well as families without a son talking to him. Well, at least the daughters are interested and are actively appealing to their fathers.
I'm currently eating a little ways away from Wayne. Luckily, I don't have much of a presence, so I'm able to eat in peace. I'm watching Wayne being bombarded by questions by multiple glamorous women when an even more beautiful woman appears.
"Wayne Kimble, may I have a word with you? I want to introduce you to my daughter." Lieutenant General Simon
---
Translation
Good Job!
Do Better!
Chapter
Love It!
What?
FFS!
Really?
---