Chapter 021: Rahal, Letterman?
- 2 minutes read
- 392 words
"Captain Rahal! There are several carriages and adventurers ahead!" Soldier
"Is it a merchant caravan?" Rahal
I don't have the time to deal with merchants right now. Two days have passed since the master's son was expected to return to the territory. There have been rumors of a bandit group in the area, but an investigation had been stalled due to lack of manpower. The territory's army was busy with an outbreak of monsters and was unable to patrol the main road.
I never expected the bandits would send a letter to the Marquis. A ransom letter was delivered to the Marquis by a merchant. It seems the merchant had been robbed of all his goods, but was allowed to leave with his life in exchange for delivering the letter.
"If they are just merchants, ignore them!" Rahal ordered
"Oh, it seems they've raised a flag! They're part of the Kingdom Army!" Soldier
"Send the lead cavalryman to check on them!" Rahal
"Ha, understood!" Soldier
---
I spot a cavalry heading over.
"Are you the Kingdom Army? I'm a cavalryman of the Rahal unit under Marquis Dixon, Letterman! I wish to talk with the commander of the unit!" Letterman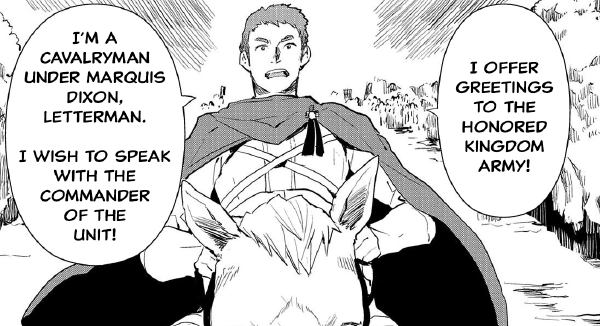 I move over.
"I'm Second Lieutenant Patrick Riggsby of the First Army of the Kingdom. I'm in command of this company!" Pat
The short, red-haired and blue-eyed man who named himself as Letterman dismounts his horse.
"Second Lieutenant Riggsby, for what purpose is your unit deployed?" Letterman
"Under military orders, I was undergoing clearing of dangerous monsters and bandits from the highway, but located a son of Marquis Dixon while clearing a bandit hideout. I was taking him and his escorts back to safety, when I encountered your force." Pat
"Are you serious?!" Letterman
"Let me take you to them, please follow me!" Pat
I take the cavalryman over to the carriage where the three people were located.
"Letterman, here they are!" Pat responds as he pulls back the carriage covering.
"Letterman! All three of us are safe!" Kevin Dixon smiles
"Oh! Kevin! Carlos and Mark! I'll report this to the captain immediately! Second Lieutenant Riggsby! Please excuse me to report this to my captain and the unit, I'll be right back." Letterman requests with a short bow to Patrick
"Understood, Letterman." Pat
Letterman hurriedly mounted his horse and rode back to his unit.
---
Translation
Good Job!
Do Better!
Chapter
Love It!
What?
FFS!
Really?
---