Chapter 017: Cross-Examination
- 3 minutes read
- 450 words
Content Warning: Medieval Torture
---
"So, where's your hideout?" Soldier
"No, I won't say it! You're just going to kill me, whether I tell you or not! Have fun trying to find it!" Bandit
I come over to check on the interrogation.
"So, how goes it? Did he spit it out?" Pat
"No, no answers. Even if I hit him, he just curses and refuses to give it up." Soldier
"Would you like me to give it a try?" Pat asks with a chuckle
"Do you really think you can do anything?" Soldier
"If I say something, I die. If I don't say anything, I still die. So I won't say nothing!" Bandit
"Ah, that's right. Then just keep your mouth closed. I'll take care of the speaking." Pat
I take a needle in my hand, then stick it beneath the bandit's fingernails, all while smiling at him.
"I won't talk with just this!" Bandit
I move on to tearing off fingernails and toenails with pliers, then I use the pliers to crush the finger bones, one by one. Next, I take a hammer and smash the destroyed fingers for a while.
Finally, I move on to breaking the shins, elbows, knees, and about that point the bandit faints, but I smack him around until he comes to. I'm very careful to not go too far and kill him.
The bandit was defiant at the beginning, but now he just trembles. Even some of my soldiers are looking a little worried.
"I'll talk, I'll talk" Bandit
"No, no, don't say it yet! I want to keep going and hurt you even more! I'm working so hard so you don't expire or bleed out! I've got so much more I can do!" Pat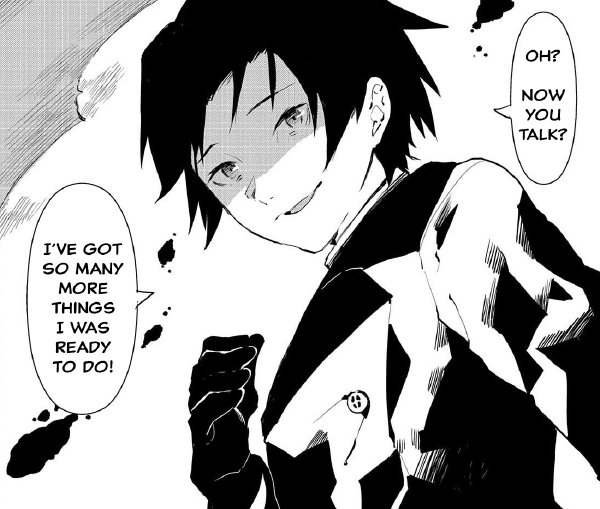 I pull out a bottle while keeping my manic expression on my face. The bottle has a potion inside of it.
Potions are a medicine made in complete secrecy by the elves that heals wounds instantly when consumed. For some reason, it won't heal fatal wounds, even if the person has yet to expire. One theory is that fatal wounds are damaging to both body and spirit, and the potion cannot heal the spirit. Another rumor is that the elves dilute the potions before export or only sell the lower quality potions. Another is that the potion limitations are in place to protect the demand for elven recovery magic.
My three wounded subordinates have already been treated with potions, but now I forced open the bandit's mouth and forced the potion down his throat. Soon, the injuries I inflicted had healed.
"Well, I think it's time for Round 2" Pat
"I'll talk, please let me talk!" Bandit
---
Translation
Good Job!
Do Better!
Chapter
Love It!
What?
FFS!
Really?
---