Chapter 005: Let's Visit the Weapon Shop
- 4 minutes read
- 814 words
"5 gold coins?" Pat
When I returned to the barracks, I got to look in the contents of the bag I received at the award ceremony, and couldn't stop my surprise.
The currency of this world is decimalized gold, silver, and bronze coins. Each coin is worth 100 coins of the descending coin, the lowest coin is around the same buying power of 100 Japanese yen.
In addition, there are other denominations like large silver and bronze coins, that are worth 10 of their normal brothers. Also, there's small bronze coins, that are worth a quarter of a regular bronze coin. Many small items are purchasable in bundles for a small bronze coin.
A silver coin is 10,000 yen, and a single gold coin is 1 million yen. And I got 5 of them!
5 million yen!
I smiled involuntarily.
"Hey! What are you going to spend money on?" Wayne
While I was thinking, a handsome guy appeared.
"Wayne, didn't you get three gold coins too? " Pat
"Don't raise a fuss, Mr. 5 Gold Coins!" Wayne
We chuckle a bit.
"Let's visit the weapon shop!" Pat & Wayne
When you join the Kingdom Army, you are issued only basic armaments. A commoner recruit will get a spear, while a better soldier would get a spear and a one-handed sword. Even then, the weapons aren't new or especially well-made.
For sergeants, which any aristocratic recruit would start out at, they're issued a spear and a two-handed sword, both used. Some are barely holding together. In fact, my spear broke the first time it was used in battle. I had to fight with a two-handed sword against a further-reaching orc club, leading to him getting clubbed in the back of the head.
"I don't want to keep getting hit with clubs." Pat
Wayne laughs at my joke as we leave the barracks.
---
"A spear would be good" Pat
I mutter as I browse the selection at the weapon shop. The most common weapon in battle is the spear in this world. The main reason is that it allows attacking monsters from a distance. Even in a human on human fight, a spear allows for more reach vs a sword.
Cheap examples start around 50 silver coins, but compared to a spear offered for a single gold coin, the more expensive version is clearly better, even to an amateur.
Weapons that are the difference between life and death are worth more than gold.
The preferences for weapons seem to vary person to person. Some will prioritize sharpness above all else, while others value durability, weight, or handling. There's even some that are most concerned with appearance.
"What about you, Wayne?" Pat
"I'd like something pretty durable, moderate weight if possible." Wayne
"That's a good idea, but the heavier ones will do more damage, right?" Shop Owner
The shop owner brought out an all-iron spear for Wayne.
"Looks heavy" Pat
I couldn't stop my reaction, but the shop owner takes it in stride.
"The inside is hollow, so it's lighter than it looks." Shop Owner
Hmm, so it's like a pipe?
Wayne picks it up and gives it a test swing or two.
"How much is it?" Wayne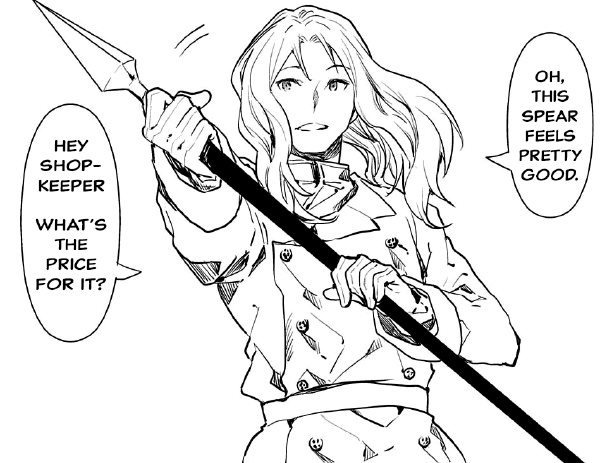 Wayne seems to like it.
"2 gold coins" Shop Owner
"That's too expensive, what about a gold coin and 50 silver coins?" Wayne
"Can't do it, a good craftsman made that. How about 1 and 75?" Shop Owner
"That's better! I can do 1 and 65!" Wayne
"Lowest I can do, 1 and 70!" Shop Owner
"Deal, then!" Wayne
So, that spear is worth 1.7 million yen?
"So what are you interested in?" Shop Owner asks Pat
"I'm interested in something light and sharp!" Pat
"When it comes to that, I've got two options for you." Shop Owner
The clerk pulls out two spears from the back.
"This first one has a shorter-than-average handle, so it's lighter and easier to manuever, all while having an excellent sharpness. This other one is a normal length, but the tip is small, so it feels light. It's quite sharp as well." Shop Owner
I rub the my left temple with my left middle finger, it's my habit when I'm thinking seriously.
The longer one had better reach than the short one, right?
"What about the one with the short tip? Isn't it pretty expensive?" Pat
"I'll give you a special deal on it, only a single gold coin!" Shop Owner
"Oh!" Pat & Wayne
"Deal!" Pat
"That's unfair!" Wayne
---
After the two had left, the wife of the shop owner came out.
"Why did you sell that spear for a single gold coin? Couldn't you have gotten a bit more?" Shop Owner Wife
"What's the matter?" Shop Owner
"Stupid husband!" Shop Owner Wife
There were some angry sounds from inside the store, maybe a slap sound…
Sometimes it's better not to pry.
---
Translation
Good Job!
Do Better!
Chapter
Love It!
What?
FFS!
Really?
---