Chapter 004: Reward
- 3 minutes read
- 600 words
I've got to collect my thoughts.
So, I'm a former Japanese person, nobody has mentioned anything like an Achilles tendon in this world.
I'm Pat, full name is Patrick Riggsby. Third son of a Baronial family in the western frontier of the Mental Kingdom. I recently became an adult at the age of 15.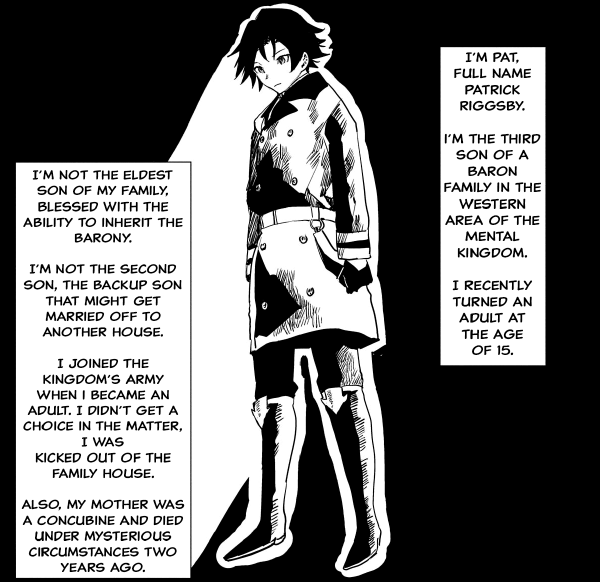 I'm not the eldest son that inherits the territory or the reserve son that might get married to another house. There are precious few houses that only have female heirs, so a third son has no hope there. There's plenty of competition for those sorts of marriages.
So, I ended up joining the Kingdom's Army when I became an adult, a fairly common situation for an aristocrat's third son.
The first two sons of the current Baron Riggsby are both sons of the legal wife, while I'm the son of a concubine. I wouldn't say I got any sort of choice in joining the Kingdom Army, I was actually kicked out of the house.
Also, my mother died of a mysterious illness two years ago, my father only thinks of increasing tax revenues from the territory, the eldest son is completely incompetent, the second son is a spineless coward, and the legal wife is a pig that only cares about amassing jewelry, it's a mess.
I'm happy that I'm in the army, where they just swear at you.
In addition, I'm the only member of the Riggsby family with black hair and black eyes, so I'm apparently a devil's child who doesn't have the proper blood of the Riggsby's. Because I was a devil's child, I could be abused as much as they wanted. That's the house I grew up in, where my mother was stressed out to the point that she got sick and died.
Well, Japanese people are willing to move past things, so I'll do my best as a soldier and live at my own speed.
---
"Patrick Riggsby has woken up!" Wayne reports
"Thank you for the report, you are dismissed." Unit Captain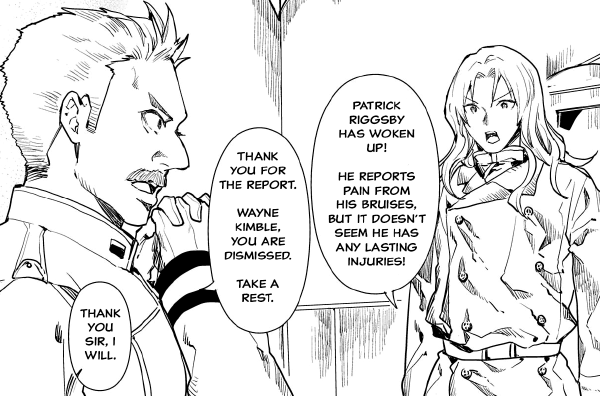 "Yes!" Wayne replies as he leaves the room
"Hmm, that recruit, Patrick Riggsby? He's got a lot of guts." Deputy Captain
"He's the third son of the Riggsby family? I wasn't expecting anything, but he's a model recruit. I thought he would be worthless based on his family's reputation." Unit Captain
"Is it true that both the eldest son and the second son failed to make it to three months of service?" Deputy Captain
"The eldest only lasted a single month, while the second son managed to last a whole two months." Unit Captain
"Doesn't the training period take more than a month?" Deputy Captain
"Oh, during the field training, he deserted after we wouldn't give him a tent to sleep in." Unit Captain
"How can I even respond to that?" Deputy Captain
"The second son managed to finish training, but he deserted right after he received his first orders." Unit Captain
"I don't think they're qualified to breath the same air of that third son." Deputy Captain
"Indeed" Unit Captain
"What are you planning to reward Patrick Riggsby with?" Deputy Captain
"Is he currently a sergeant?" Unit Captain
"Yes, since he was from an aristocratic family, he was given the sergeant rank at the end of training." Deputy Captain
"I think it's appropriate to award him 5 gold coins and the master sergeant rank." Unit Captain
"Understood, I'll take care of it." Deputy Captain
"Also, Wayne should be awarded 3 gold coins, and the rest of the soldiers get 10 silver coins." Unit Captain
"Right on it" Deputy Captain
---
Translation
Good Job!
Do Better!
Chapter
Love It!
What?
FFS!
Really?
---