Chapter 003: Waking Up
- 2 minutes read
- 374 words
"Where am I?" Pat
I can't stop myself from asking that question.
"You're in a medic station for wounded soldiers. I'm glad you're awake, how's the pain?" Wayne
My fellow compatriot Wayne responds, full name Wayne Kimble. 15 years old, same as me. 185 centimeters (six feet) tall with blue eyes and long blonde hair that sways in the wind.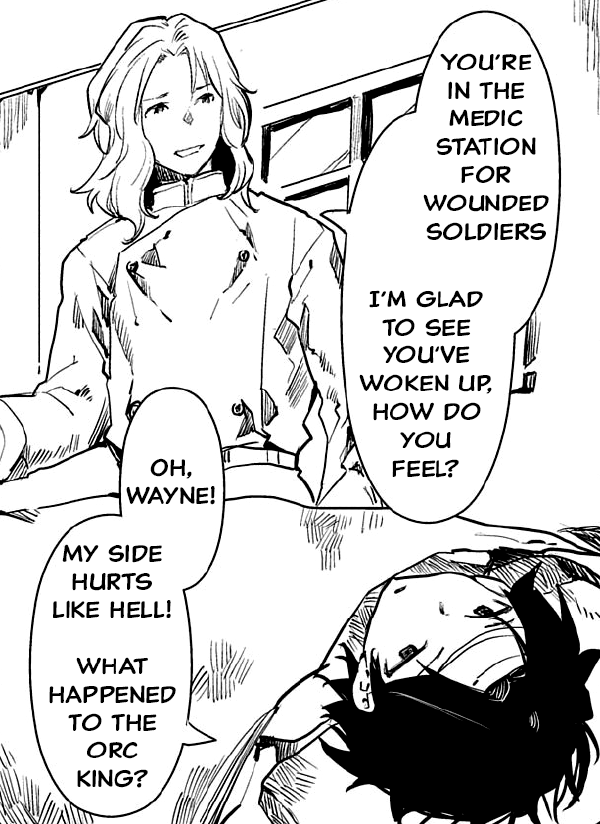 "Oh, Wayne! My side hurts like hell." Pat
"I bet, even though you got hit by some hard wood, it beats being bisected by an orc king!" Wayne quips with a smile
"What happened the orc king?" Pat
"After your stunt, I managed to get it right in the eye, then we all managed to gang up on it and end things. It's amazing we made it." Wayne
"That's amazing! Looks like you are getting a lot of recognition!" Pat
"No, it's all you. Without your attack, my spear would have never reached. Shouldn't you get all the praise?" Wayne
"Wait, the guy who got blown away and spent the fight unconscious? That's not cool, I wish I had your kind of panache" Pat
"I'm not sure what you mean by panache, but you don't think you deserve any praise? Well, it's pretty amazing you were able to sneak behind it." Wayne
I don't want to get caught up in the troubles of handsome guys!
"I've just always had a weak presence!" Pat

"Well, I have regularly had trouble figuring out where you are, Pat." Wayne
"Right?" Pat
We both laugh, but I start to wince from the pain.
"Ayiyiyi" Pat
"Take it easy, I'll report to the captain that you woke up." Wayne
As I look around, I spot quite a few injured solders also lying in beds, as well as soldiers covered with straw mats in the far end of the room. How many soldiers were injured or killed in this operation?
When a herd of orcs was discovered by an adventurer, a sortie order was issued to the 3rd battalion of the Kingdom's 1st Army, who have now subdued the orcs. This was all to prevent the orcs from attacking the villages of the common people.
I closed my eyelids and nodded off from the satisfaction of a job well done.
---
Translation
Good Job!
Do Better!
Chapter
Love It!
What?
FFS!
Really?
---